My Fine Art
Spiritually inspired art in the medium of watercolor on "Shuan" Rice Paper. I also create art in mixed media, acrylic and oil on canvas or board.
The watercolors do not simply sit on the surface of this beautiful texture, but truly become one with the rice paper, enhancing the vibrant colors and bringing a vivid depth and a spiritual response to the viewer.
My art is intended to add powerful Feng Shui to the home and provide spiritual and peaceful balance and assurance; enhancing the energy of your space by its mere presence on the walls of your home or working area.

Each painting tells a beautiful story that delights the eye and ignites the heart.




"WaiSin's art work is not only visually beautiful and psychologically calming, it is powerfully poetic.

In this world of uncertainty, one touches a deeper certainty of what truly matters in her representation of both the ephemeral and visual sphere of experience.

Karen K Redding, LCSW, Ph. D
Mental Health Professional
Vispassana Meditation Teacher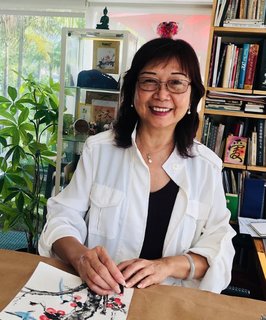 "I want to connect with people through my painting's to inspire their own connection with inner peace and hope."